Sunday Social: Favorites!
Is it December 1 already?? I had to double check on my phone to be sure. The time really does fly at the end of the year, huh? What better way to welcome December than to share my favorites! So I am linking up with
Complete Waste of Makeup
for their Sunday Social...Welcome!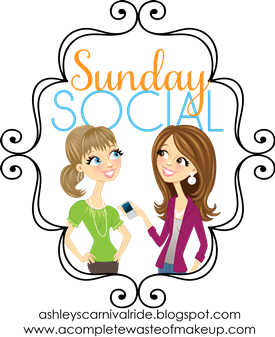 What is your favorite ice cream flavor? Hands down it is Butter Pecan. Pecans make everything taste better! I also have fond memories of eating vanilla ice cream with chocolate syrup on it before bed when I visit Momma and Daddy.
What is your favorite smell? First thing that came to mind is the smell of freshly cut grass. There is just something clean and fresh smelling about it. I guess that is why I gravitate towards clean scents.
What is your favorite TV commercial (past or present)? This Little Caesar's commercial makes me laugh every single time!! There's really only one rule...
What is your favorite day of the week? I would say Saturday. You wake up and there really is no stress, time clock, or work driving you. You could sleep in or stay up late with no repercussions. The day is for you to do what you wish!
What is your favorite way to waste time? Reading! I can load up my kindle and read for days. I have new books on there now and I have to hold myself back because I am going to need them for my flight to New York City. But it's so hard!! What books do you recommend?
What is your favorite article of clothing? My PJs. It is one of LT's old work shirts and oh so soft. Plus it reminds me of him. When I get home for the day, I go and change into my PJ shirt and plaid flannel pants.
What are your favorites? Come share and then enjoy your relaxing Sunday while LT and I finish putting up Christmas lights and then "raking" the back yard of cypress leaves.