Social Sunday: 4 Things
Yep, it is that time again to link up for Sunday Social. I am grateful I am joining today because it gives you an opportunity to know a little bit more about me. How cool is that!!
Let's celebrate even more...today is my 100th post!!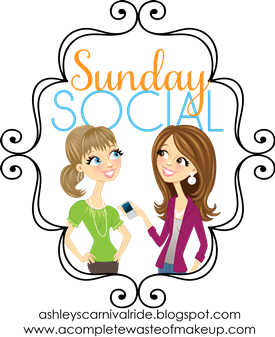 Here are the questions....drum roll please!
ONE
Name 4 jobs you have had in your life:
Asst manage at a clothing store, Sales associate at a woman's fitness club, Sales associate at Coach during the summer (got lots of new handbags!) and my favorite and current: a teacher
TWO
Name 4 movies you would watch over and over:
Man, do I have to limit it to 4? Ok here goes. Iron Man trilogy, Practical Magic, Reds, and The Birdcage
THREE
Name 4 places you have lived
: Texas, Georgia, and two different towns in Kansas
FOUR
Name 4 of your favorite foods:
Mexican (all of it), almond butter, guacamole, red velvet cake
FIVE
Name 4 things you always carry with you:
cell phone, wallet, keys, germX
SIX
Name 4 places you have been on vacation.
Again, too hard to narrow down! Going with my favorites.
Redwood Forest in NoCal
, Italy,
NYC
, Cancun
This was fun! Thanks for stopping by and getting to know me! I always love to hear from my readers.