It's a Fantastic Friday!
Today I am linking up with Michelle at
MaMade Diaries
and Stephanie from
Life as a Mommy

.
Also my very good friend Kristen from
Happiness is a Mood Not a Destination
is co-hosting! Showing some love!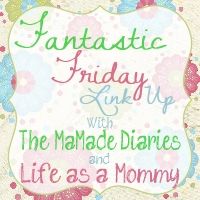 In the spirit of Fantastic Friday, my top 5 fantastic things I'm thinking of, dreaming about, just plain going out and doing.
1. TIEKS. I saw an ad for them and now I am obsessed with looking at them. I love ballet flats and I think these might be comfortable. I have never tried them on, but they look like they would be. Of course I am a shoe-a-holic so it kinda is a no brainer. The pair I want is sold out so I'll wait and see before I buy.
2. THE FOLKS.
Yesterday
, I told you where and why I got my dislike of change and the folks decision on a house. Well, it has been made and it is a no go on the house BUT there are reasons that I didn't even think of/know about. It seems there was a little thing about blurred property lines (or lack there of) and across the street was commercially zoned. Smart Daddy I have to check into all of that. So we are all good with the decisions.
3. WEATHER. It is still crisp here in Texas. Waking up to high 30s, low 40s and enjoying 60 something degree weather. Texas is fickle because it seems we are going to rise back in to the 70s next week. I just got some cute fall outfits put together! Stay fall so I can rock my boots!
4. LT. The love of a good man is where it's at. I love that he takes care of me in the little ways. The man can make me laugh even when I get mad at him. Kinda like a child, you can't punish/or be mad if you laugh at them. He is a keeper though and I'm keepin' him!
5. PRAYER WARRIOR. Praying for Sheldon, Anne's from
Hell on Heels
FIL, and his hopes for a transplant. A friend who is battling breast cancer and another friend whose mom found out she has cancer. Also I have my own personal prayers going up for me and my family but that will be another post when I have all the information.
What makes your Friday Fantastic my friends? I would love to hear from you!