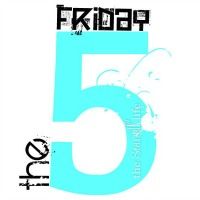 October always starts the whirlwind of activities for the holidays. You can sit on your laurels and what for things to happen, you need to plan! plan! plan! (yeah I know I am OCD when it comes to having plans and contingency plans, Lt is trying to ween me off of it)
Linking up with Joy at Sowell Life for Friday 5. So the 5 things that are in the works...
1. Red Ribbon Week at school. Remember when you were in school and they dedicated a week to promote being drug free? Yeah, it is that time of year again. We are planning what our daily themes are so the kiddos can dress up (yeah I will be too!) Plus we have to decorate out door. I am working with negative creativity here. Pinterest is not helping me out either! Got some ideas??
2. Munster Mansion in Waxahatchie, TX this Friday...TONITE! There is a couple that built their house inside and out to look like the house on the TV series, The Munsters. For two nights in October only you can tour their home. Super Psyched!
3. Territorial Christmas in Guthrie, OK. They do an old Victorian Christmas where all of downtown decorates and dresses in Victoria Era. We are planning to meet up in Guthrie with the our families from Kansas, Oklahoma and Texas! What a great way to stay in the holiday spirit!
4. LT and I are planning a trip to Houston one weekend in November for a little getaway and of course a little putt putt in Galveston at the Magic Carpet Mini Golf Course. It is right on the seawall across from the ocean. This is one of our first summers together getting our putt putt on! It's an annual trip and we haven't been there all year! That's not like us.
Pre-putt putt battle
Didn't win, but got a snow cone!
5. Annual trip to New York City with the sister. We take our annual pilgrimage to our Christmas Mecca. I can see us now walking up and down 5th Ave looking at Christmas decorations, eating at new and exotic places, checking out Times Square and shopping in SoHo and NoHo and a little Christmas craft bazaar close by, which we will eventually end up walking back to 5th Ave exhausted. Those little rickshaws better be ready!! These pictures are from last year.
Rockefeller Center
Radio City Music Hall
Across from Radio City Music Hall in Times Square