Friday 5
Linking up with Joy over at the
Sowell Life
What has been happening this week in the life of Laura? Unfortunately not a whole lot.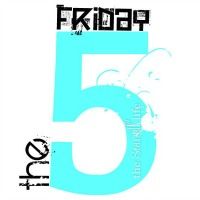 1. This week was all about state testing. I swear I was more worn out and stressed than the students were! Now we are all waiting for the results that won't come until the end of May.
2. Wednesday, D and I went to see Boz Skaggs in concert. It was an outside venue, at night, in the middle of downtown...surreal. I am still a small town girl at heart and always amazed at what I do or have down. Big Dan drove us. We dined at Iron Cactus and I had shrimp tacos with broccoli instead of rice. Yum-o-licious! Then off to the concert. I loved having a driver. Took the stress completely away. Sorry no pictures of Boz. Women walked around making sure no photos were taken.
3. Got the email from Momma stating Daddy had a clean bill of health from his cat scan. See, this time last year Daddy was diagnosed with Hodgkin's Lymphoma. He is the patriarch of the family. I am a daddy's girl and it hit me hard. D and I would fly up and drive momma and daddy to appointments two hours away from where they lived. To hear there are no new cancer cells is a relief! Now we are waiting for the 5 year mark to be called cancer free! All of the thanks goes to God for making this miracle happen.
4. Getting the hair did is a major thing. Am I right, ladies? The best part, other than seeing my boys and listening to stories and getting the roots did, is the TO. DIE. FOR. scalp massage I get. I just don't want to get out of the chair afterwards! Thankfully I am getting a massage Saturday.
5. Took Gavin on a walk last night. We walked his little legs off! Fat little Joe (one of his many nicknames) walked about a mile. He was leaving "pee-mail" everywhere! The best thing is that he slept through the whole night. Worst part is he took up my side of the bed including the pillow! How does this happen?