Social Sunday!
It is time for Social Sunday and it's all about spring! This is a little hard for me to think about because we received our cold front last night with the added bonus of wind...almost Kansas style wind. This means we are looking at 25-35 mile an hour winds. Kansas winds start around 40-45; anything else is just a breeze. So let's see what spring has in store for us, shall we?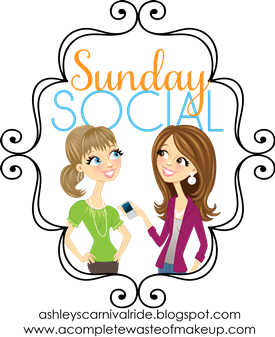 1. What is your favorite thing about Spring?
Blooms! I love when everything is starting to bloom. Flowers of all shapes and sizes calling out to me to be planted in my yard and around my doorway. My Spirea that is so heavy with blooms it is dragging the ground. The Bradford Pear trees bursting with flowers that begin to drift downward only to be replaced with leaves leading us to the green green grasses. It's all about the color and new life!
2. Favorite kind of flowers to grow or receive? My favorite flower to receive is daisies. They are so smiley! The flowers I love to grow are Snapdragons (because you can make them talk by pinching the flower and make their "mouth" open up!), irises (from my parents house), any bright color flower to spruce up the front porch. I am going to get some Azaleas and Lady Banks this year and try my hand at those. Wish me luck!
3. What is your favorite nail polish? Well, I leave my fingernails natural. I am trying to grow them past my fingers and it's not working to well. They keep splitting! But for my feet I go all out! My favorite is OPI Cajun Shrimp. I have enjoyed a white (when I am tan), gunmetal grey, and for St. Patrick's Day a green.
4. What is your favorite outdoor activity? Walking around White Rock Lake with Lt. We enjoy going through the neighborhoods more than the lake. There are more hills and less traffic! I also enjoy going on mini trips and doing some hiking. How can I forget our putt putt challenges!
5. Do you have any spring plans? Not really. Well, we are going see Wicked and then a Heart concert. Other than that, we just wing it. There will be some trips to Galveston for some putt putt beside the ocean, some arts and craft fairs around the area and maybe slip down to Austin to see the bats. No big trips until this summer, hopefully.
What does your spring look like?