Social Sunday #2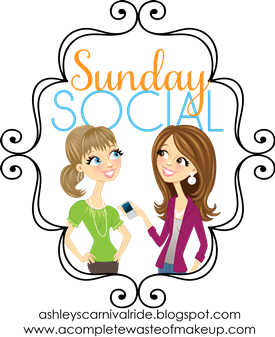 Social Sunday with Neely was so much fun I am back for more!
Here is today's questions and answers:
What is one movie you are terrified to watch?
Only one? I do not watch any scary movie, sorry Lt (he loves them!) I think it's because either a) I can freak myself out without any help from scary movies or b) they are just too real to me. So any scary movie you name, I'm out!
PS: I don't even go to spook houses with Lt!
What is one TV show you have always wanted to get into but haven't yet?
Elementary. It is like a modern day Sherlock Holmes. I am just amazed any one could have such a perception on what is going on around them! I love the Sherlock Holmes movies and adore the TV show Psych so I would think this would be up my alley. Haven't watched it yet.
What is one daring activity on your bucket list?
Hmmmm....I am not a big adrenaline junkie so skydiving and bungie jumping are out. Maybe taking a third vacation with Lt to California and the Redwoods. Here is why it's daring. Our first vacation together we went to Tennessee for the fall foliage. All we saw for the first three days was the inside of a hospital room. Yep, we both got severe food poisoning on our first night there (before we even made it to the hotel!). Second trip to Boston was better, but I want one vacation were absolutely nothing but utter joy and relaxation happens. Could third time be a charm?
Would you ever travel alone?
For short jaunts like going home or meeting up with friends sure. But for true travel, I enjoy having someone with me. My sister and I and travel to Charleston SC and Savannah GA and we are leaving tonight! I get so excited when I do research on what to do while we are there. It is just more enjoyable and memorable to share it with someone!
What activities do you like to do alone?
Definitely reading! If my Kindle paper white is in my hands...shhhhh! LOL!

Loading the dishwasher! There is a certain way to do it in my book.

Grading papers, otherwise I won't get it done!
What a great way to learn about other bloggers! Come join the fun!