Friday 5 Link Up
I am linking up with Joy from The Sowell Life. Here is my top 5 of what my week looked like..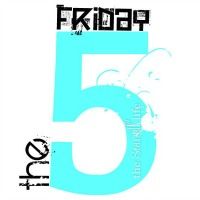 1. Spring and Spirea: I just love when my spirea bush blooms every year! It reminds me of growing up in Kansas. My momma always had a spirea bush and mine just brings back my childhood. Even Gavin likes it! I really think he is looking for a place to do his business...No, Gavin!
2. Book Club: Once a month I meet up with some special ladies for a book club. Our book is 1000 gifts. I adore these women! They are so supportive and uplifting! I always leave with hope restored and my soul renewed. It has also helped me get back to my Joy Journal which has brought more peace and perspective to my life again.
3. Gavin: This is one of my favorite topics; My little man! He is always surprising us with his personality. Lately he has been taken to sit with Dad in the "man chair". Of course Lt has to work extra hard to get Gavin to come to him (Gavin is a Momma's boy). But now that this routine has been established, Gavin thinks it is his chair. He is taking over! Look at him!
"Am I doing this right, Dad?"

4.
Hair cut:
I absolutely LOVE going to my hair salon. I have been going to my boys for 15 years. They get me, and know what I mean when I say I want a new style or change (translation: I want the change but don't want to commit to actually changing my length). Sometimes I think of going shorter but I don't think it would be flattering and Lt likes my hair long. So the plan was to come up with some bangs. I have never had "bangs" before. Not to bad! I actually really like it. Now to see if I can recreate the look!
5. Weather: TEXAS weather is so unpredictable! We have been having wonderful spring weather in the upper 70s almost 80 degree weather! Then...BOOM!...cold front hits and I have to drag out the sweaters again. I am hoping for a little warmer weather for Saturday. We are heading to Tyler for the Azalea Trails. I love to see the blooms on azalea bushes. I just may have to bring a couple home to plant have Lt plant in the yard.
Next week looks to be an even slower pace! Plans are:
1. Azalea Trail and dinner out
2. Bath Gavin (oh mylanta that is a chore!)
3. A round of cutthroat putt putt (weather permitting)
4. Down time with Lt.
5. Getting caught up with my 30 miles in 30 days
So, what has been shakin' with you?